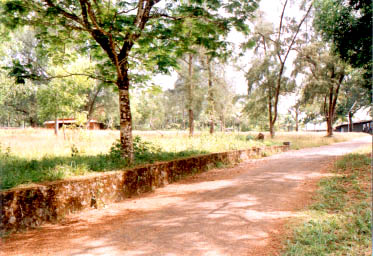 Christavashram Camp Premises
The Retreat (Camp) Centre:
This Centre is used for retreats and camps by individuals, families, cultural groups, church and ecumenical groups, as well as prayer and study group-meets for men, women, youth and students. There is a Conference hall and Dining hall, as well as Residential rooms and Dormitories. The Centre can accommodate upto 60 persons.

Gurukul Ecumenical Institute and Peace Centre:


This is a non-formal educational Centre, after the general pattern of the ancient Gurukulas of India. The Gurukul helps young men and women to choose their life work with a sense of vocation and call from God; experience practically a simple life style of Community living. The Gurukul promotes a non-violent life style and culture, peace education, nonviolent conflict resolution and reconciliation. The Gurukul also offers courses along with ongoing programmes of camps, seminars,training,etc each year.The whole Institute is aimed at giving leadership training for working towards a just and peaceful social order based on the standards and values of the 'Kingdom of God'.

Bal-Tek (Wood works Institute):


A few boys are trained here in carpentry under a trained Instructor and a Foreman who work on the machines to give shape to the products. A Sevak of the Ashram is giving time to develop it as an income earning production centre for the community.

Book Your Camp Today!

CALL or WRITE to us:-
Christavashram
Manganam P.O., Kottayam,
Kerala, India
Tel:+91-481-2578226
Christavashram, Manganam P.O., Kottayam, Kerala - 686018, India.
Tel: +91481-2570701