Hai! Here, a loving guy in search of good friends!
My Name is Santhosh Manganam.
I am from Kerala in India.

My birth Place in Neerattupuram,Kuttanad in Kerala.And i love my birth place.
My date of birth- 14th July 1975. I think now you can find my age!

I have done my PG in sociology.
Now working as a teacher in a
H.S school in kottayam.

I wrote four books.Three of them are about children's literature.


I like to write Stories,listen music,capture moments(photography),make speeches,play keyboard and make friends.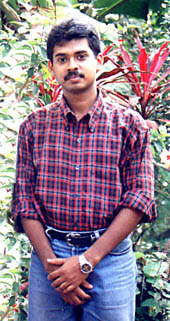 I am happy to know your opinion about mypage and my activities.

My snail mail address:-
Santhosh Manganam, Post Bag-3, Kottayam-18,Kerala,S.India.